Potato starch equipment | potato starch production machinery | potato starch processing equipment prices
Kaifeng sida agricultural equipment co., ltd. was founded in 1994, with 36 million registered assets of 33333, covering an area of 50,000 square meters, annual output value of 100 million yuan.The company is a set of research and development, design, manufacturing, sales, installation as one of the complete set of agricultural products deep processing equipment professional company.The company has 15 national invention patents and passed the ISO9001 international quality management system certification (international quality management system), BV certificate, and has the European welder certificate.The company specializing in the production of various kinds of starch processing equipment, flour processing equipment, processing equipment of potato starch and potato starch processing equipment wheat, potato starch processing equipment, processing equipment, valley yuan powder processing equipment, processing equipment of cassava starch and cassava flour processing equipment, radix puerariae, processing equipment, banana taro processing equipment, syrup, starch processing equipment, production line for fans, gluten machine drying equipment make products such as processing equipment, using corn, corn, rice, broken rice directly into glucose syrup, fructose syrup and malt syrup.Our equipment is exported to many countries, such as the United States, France, Britain, Australia, South Africa, Nigeria, India, Bulgaria, Russia, Indonesia, etc. Our equipment has been well received by customers.
24 hours consulting telephone manager zhang manager zhang
Main advanced potato starch processing equipment and technological process:
Potatoes - (cleaning machine) to clean (clean rotor cage), grinding mill (hammer type crusher or file) and plasma slag separation (the pressure screen or centrifugal screen, slag slurry separation screen) - in addition to the sand (desander) - protein fiber separation (disc separator, enrichment purification unit cyclone) to dehydration (centrifuge or vacuum dewatering machine), drying (domestic only for a national patent cryogenic 50 degrees airflow collision starch dryers) - packaging warehousing.If the whole production process adopts the new automatic starch processing line of sida company in kaifeng city, it only takes 30 minutes to package and store the finished starch products from fresh potato products, which is of high quality, high efficiency and energy-saving.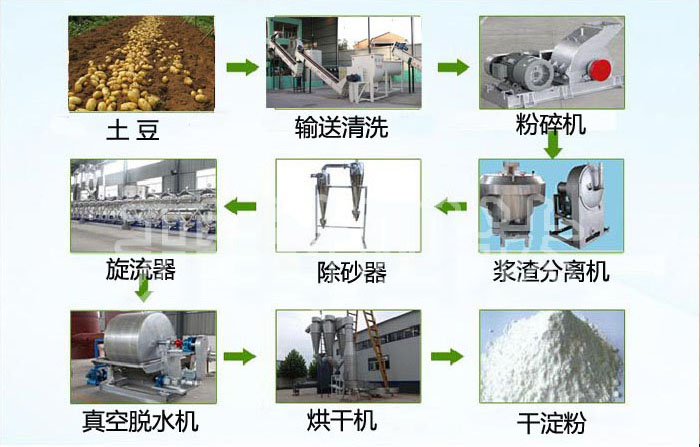 Potato starch processing equipment details:
First, the basic principle of cleaning cleaning role: mainly to remove the surface layer of potatoes with silt, and wash potatoes root cuticle.Cleaning fresh potato or dry potato slice, as raw material for starch production, is the basis to ensure the quality of starch. The more clean the cleaning, the better the quality of starch.
Cleaning conveyor
2. Basic principles of fragmenting function of fragmenting: potato starch is mainly stored in the fleshy part of the root, and only a small amount is stored in the endothelium.The purpose of shredding is to destroy the tissue structure of the potato, so that the tiny starch particles can be separated from the root tuber smoothly.The starch released from the cell is called free starch.The e residue left in the cells inside the dregs is called binding starch.
mill
The potato dregs are slender fibers, larger in volume than starch particles, and larger in swelling coefficient than starch particles, and lighter in weight than starch particles. The crushed raw pulp is further filtered out with water as the medium.
The specific gravity of mud and sand is larger than that of water and starch particles. According to the principle of specific gravity separation, the use of cyclone sand removal, or the use of the settlement of the flow trough, can achieve relatively ideal results.The proportion of yellow pulp, close to water, and than the proportion of starch particles light, its shape is palm shape, the longer the processing cycle, the greater the adhesive performance, sticky screen, stick starch particles, extremely difficult to separate, so the raw materials are fresh, the process flow is short, timely separation.
Protein separation: during the processing of potato starch, the protein contained in potato must be separated. This separation process is called purification process in processing technology.The equipment used is also called purification equipment.It includes a butterfly separator, a cyclone, which separates the protein from the starch in what is known as a yellow powder.Yellow powder in the content of starch in the food industry requirements are not very strict, and in the industrial grade starch, especially modified starch requirements are quite strict, so, want to produce a higher grade of starch, must have purification equipment for security.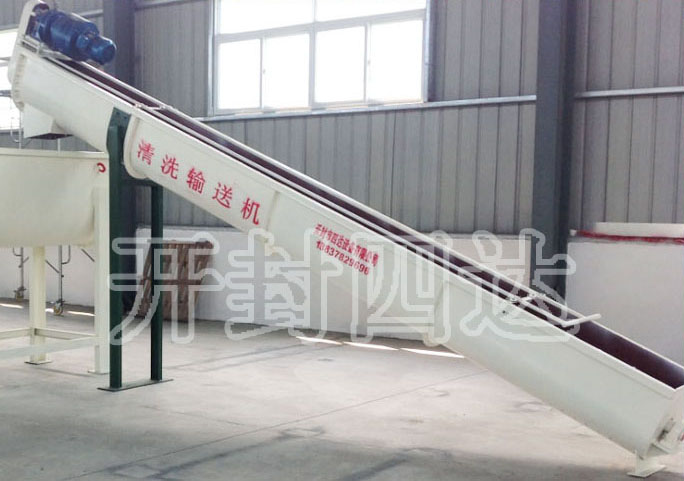 cyclone
The basic principle of drying at present the general use of the air drying (also known as sudden drying) the whole process time is completed in an instant, so starch particles internal moisture gelatinization has been dried, so will not occur gelatinization or degradation phenomenon.Air drying is a cocurrent drying process, that is, the cocurrent process of wet powder and hot air, which consists of heat transfer and mass transfer.When the wet starch is in contact with the hot air, the hot air transfers heat energy to the surface of the wet starch, and then transfers heat energy from the surface to the interior, which is the heat transfer process.At the same time, the water in the wet starch diffuses to the surface of the starch in liquid or gaseous form from the inside of the material, and then diffuses to the hot air through the film of the starch, which is a mass transfer process.Is to use high temperature air flow and wet starch balanced in the dry tube heat exchange, dry starch powder, cooling can be packed into storage.
Starch dryer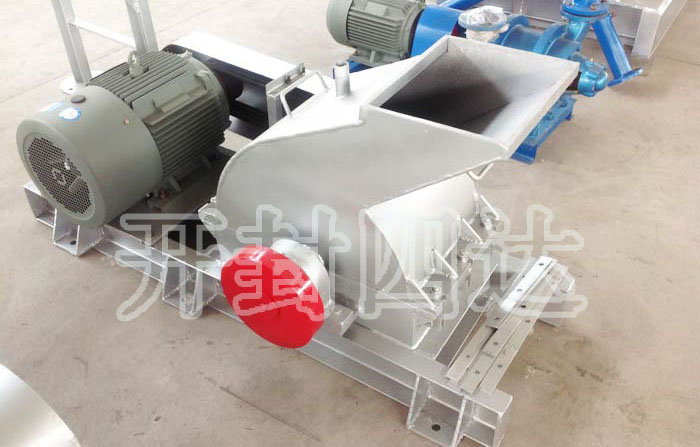 Potato starch processing equipment three-dimensional diagram layout
Potato starch vermicelli production line
Capacity of potato starch processing equipment: daily output of 5 tons potato starch, daily output of 10 tons potato starch, daily output of 20 tons potato starch, daily output of 30 tons potato starch, daily output of 50 tons potato starch, daily output of 100 tons potato starch processing equipment
Potato starch deep processing vermicelli vermicelli equipment: daily production line of 2-3 tons vermicelli vermicelli starch vermicelli, daily production line of 4-5 tons vermicelli starch vermicelli, daily production line of 5-6 tons vermicelli starch vermicelli, daily production line of 8-10 tons vermicelli starch vermicelli.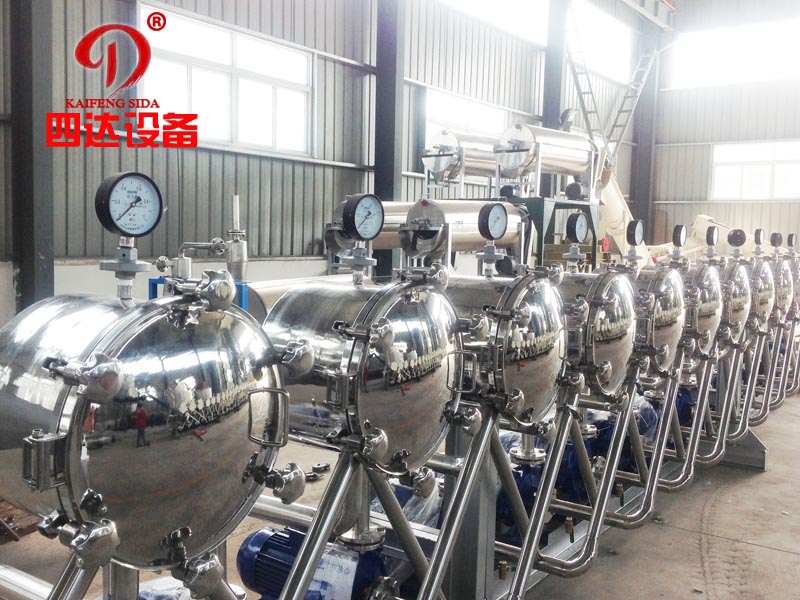 Service measures
1, the company provides wheat starch processing equipment, potato starch processing equipment, potato starch processing equipment, cassava starch processing equipment, kudzu starch processing equipment plant drawings, infrastructure drawings, installation drawings, process flow chart.
2. Our company is responsible for the survey of production area in the early stage of equipment, installation and debugging in the later stage, and training of technical personnel.Help users to provide starch and gluten sales.
3, the equipment implementation of three guarantees, warranty period of one year, lifetime free maintenance, long-term cost price supply spare parts.
What is industrial extraction method of processing cassava starch,how to make tapioca starch from cassava,manufacture single cell protein scp...
Cassava starch production equipment Low cost price for sale-Manufacturer ways of extracting starch from cassava-how to produce starch from ca...
50 tons of cassava starch processing plant per day,50 tons of cassava starch production factory
Read More
The garri production equipment involves cassava peeling,cassava washing machine ,grating,fermenting,de-water pressing,sifting,fire drying,milling,screening,packing and storage.
Read More